The Spurs got the Christmas gift that was #1 on their 'Wish List' when they landed catcher Devin Mesoraco. They filled a giant need at catcher when the Spurs didn't resign veteran catcher AJ Ellis. "We are ecstatic to have Devin! The sky's the limit when it comes to Devin's ability. He's a good reciever and can hit for power", stated the skipper of the Spurs, Red Robbins. The Spurs have lacked power at catcher since they traded Victor Martinez. AJ Ellis hit a combined .223 with 11hr, 55rbi in two seasons as the starting backstop. In getting Mesorco that will definitely add more production at the catcher's spot. DFW acquired Mesoraco & LVI 9th from LVI for DFW's 2nd & 6th round Draft picks. DFW didn't want to part with the 20th overall pick, however couldn't pass up the chance to get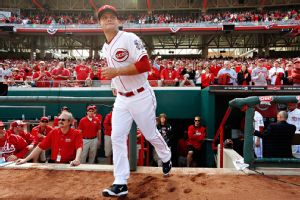 a caliber player like Mesoraco.
In another move to help fill the hole at second base DFW traded their 5th to GRK for veteran Brandon Phillips and 10th. The team hopes Phillips can find his old form after battling injuries last season.